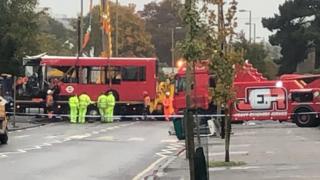 One person died and 15 were injured in a crash involving two buses and a car in south-east London.
The driver of the car has been arrested over the collision on Sevenoaks Road in Orpington, on Thursday night.
One person was pronounced dead at the scene and 15 people were taken to hospital, London Ambulance Service said. Three have serious injuries.
The arrested man was detained on suspicion of causing death by dangerous driving, the Met said.
The London Fire Brigade (LFB) sent 60 firefighters to the scene of the collision, which happened at about 22:15 GMT.
"Firefighters rescued several casualties from the buses and immediately undertook first aid, being joined by colleagues from London Ambulance Service," said LFB assistant commissioner Graham Ellis.
One witness, who did not wish to be named, said he was in his living room when "we literally heard a loud bang".
"It didn't sound like a car crash, it was a really weird noise," he said.
"I went out to take a look and saw the carnage. My son is 11 and he was really upset. We didn't really want to stay outside as it was too upsetting really."
He said one of the buses had gone into a front garden.
"My heart goes out to those involved. Very distressing," he added.
Another resident, Tariq Sheik, said he heard "an awful lot of ambulance and fire engine noises last night" and thought it might have been connected to Halloween.
"Horrific scenes, it's not very pleasant," he added.
Road closures are in place around the area and police have advised motorists to use alternative routes.
Six bus routes have also been diverted.