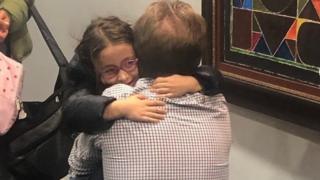 The five-year-old daughter of a British-Iranian woman jailed in Iran on spying charges has returned to the UK.
Nazanin Zaghari-Ratcliffe, 40, a charity worker from London, has been detained for three years over the allegations which she denies.
Gabriella – who has been living with her grandparents in Tehran – has returned to start school.
Her father Richard said it had been a "long journey" to having her home.
"Gabriella came back to us late at night, a bit uncertain seeing those she only remembered from the phone," he said.
"Now she is peacefully sleeping next to me. And I am just watching."
Thanking the British Embassy and the Iranian Foreign Ministry, he added: "It has been a long journey to have her home, with bumps right until the end."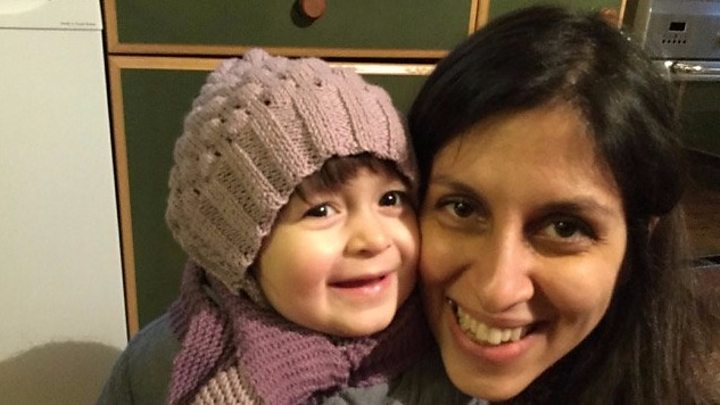 Nazanin Zaghari-Ratcliffe was arrested in April 2016 during a visit to introduce Gabriella to relatives, the family says.
She is now being held in Tehran's Evin prison, where Gabriella has visited her at least once a week.
Last week, they told the Times that her parents had agreed Gabriella should return to the UK for the start of the school year in September but postponed the decision after Mrs Zaghari-Ratcliffe was taken to a psychiatric hospital.
'Job not yet done'
Mr Ratcliffe had told the BBC that his wife was hoping for a "magic" last-minute release to enable her to come home with Gabriella.
Speaking after being re-united with his daughter, he added: "Of course the job is not yet done until Nazanin is home.
"It was a hard goodbye for Nazanin and all her family. But let us hope this homecoming unlocks another."
The family's MP, Labour's Tulip Siddiq, said Gabriella's parents have made a decision that "no family" should have to make.
"It is heart-warming to see Gabriella reunited with her father after 1,300 days in Iran, but heart-breaking that she is separated from her mother Nazanin," Ms Siddiq said.
"Nazanin is at breaking point, and today is yet another reminder that she has been failed at the very highest levels of government."
Hampstead and Kilburn MP, Ms Siddiq, called on Iran to end its "hostage diplomacy" and release Mrs Zaghari-Ratcliffe.
Last month, Prime Minister Boris Johnson called for the release of Mrs Zaghari-Ratcliffe during a meeting with Iran's president.
In 2017, when he was foreign secretary, Mr Johnson had to apologise after saying she was in Iran "teaching people journalism" – despite her family's insistence she was there on holiday.
Iran has detained a number of dual citizens and foreign nationals in recent years, many of them on spying charges.
The Iranian authorities does not recognise dual nationality and there are no exact figures on the number of detainees who are also foreign nationals.
Earlier this year, the UK foreign office advised all dual nationals against all travel to Iran because of the risk of arbitrary detention.